This
Starway Warning strobe mini lightbar
(
LTF2-A58FB Strobe lightbar
)adopts double-layer aluminum alloy boards structure and sector design, which has distinct outline stronger percussion-resistant capability, and is not easy to lose color and get aged.
Moreover, the caution light has good sealing and water-proof. Several explosive flashlight tubes are distributed as a ring and give out strong flash from each direction. Even in extremely complicated, circu
mstances, it can transmit emergency signal correctly.
2. Features
●
Solid strobe lights in the front, rear and sides for maximum warning power and high visibility and rapid flash pattern rapid alternating fl
ashers in front & back for maximum visibility .
●
2 clear alley lights and magnetic mounts 12-foot cord connects directly to the battery Steadfast magnetic mounting .
●
2 Alley lights, each controlled separately with a 3 button control box for strobe mini lightbar.
3. Specifiation
| | |
| --- | --- |
| Model | LTF2-A58FB Strobe lightbar |
| | |
| | |
| | |
| | |
| | |
| | |
4.Packing Information:
5.
Installation of the warning Mini light bar
●
Adsorb the light bar on the back bodywork. After installed, the two main electrical wires inset the capacitor (red to +, black to -), and the cores plug inset the back of the controller. Then working.
● After checking, insetting the electrical switch, turn on the switch that on the controller, then beginning to work.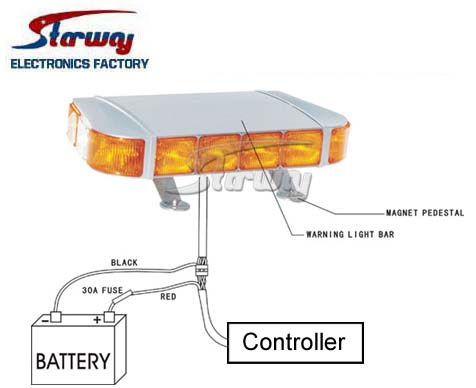 Welcome to Starway Website!
Please free to send your enquiry to us by the following form. We will contact you as soon as possible and offer you the corresponding services.